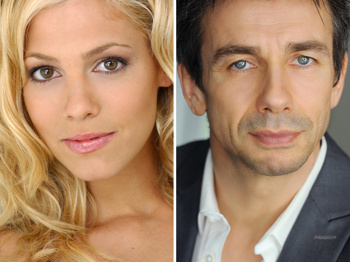 Leigh Ann Larkin & Jon Peterson
About the Show
Leigh Ann Larkin & Jon Peterson will lead the 'Cabaret' tour.
Come taste the wine, come hear the band, come blow your horn, start celebrating right this way! Broadway favorites Leigh Ann Larkin (Gypsy, A Little Night Music) and Jon Peterson (Cabaret) will lead Roundabout Theatre Company's national tour of Cabaret as Sally Bowles and the Emcee, respectively. Larkin and Petersen will begin performances in the touring production on February 21 when the show plays the Wharton Center for Performing Arts in East Lansing, Michigan.

In addition to Larkin and Peterson, the cast of Cabaret features Benjamin Eakeley as Clifford Bradshaw, Alison Ewing as Fräulein Kost, Mary Gordon Murray as Fräulein Schneider, Scott Robertson as Herr Schultz and Patrick Vaill as Ernst Ludwig.

Featuring a score by John Kander and Fred Ebb and a book by Joe Masteroff, Cabaret is set in the infamous Kit Kat Klub, where the Emcee, Sally Bowles and a raucous ensemble take the stage nightly to tantalize the crowd—and to leave their troubles outside. The musical features some of the most memorable songs in theater history, including "Cabaret," "Willkommen" and "Maybe This Time."

Roundabout Theater Company's acclaimed production of Cabaret includes direction by Sam Mendes, co-direction and choreography by Rob Marshall, tour direction recreated by BT McNicholl, tour choreography recreated by Cynthia Onrubia, set design by Robert Brill, costume design by William Ivey Long, lighting design by Peggy Eisenhauer and Mike Baldassari, sound design by Keith Caggiano, based on the original Broadway design by Brian Ronan.