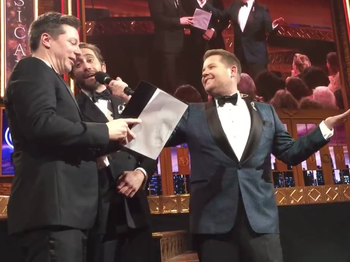 Sean Hayes, Jake Gyllenhaal & James Corden
Jake Gyllenhaal is quite simply splendid at singing.
Whenever Adam Jacobs decides to leave Aladdin, there's a perfect replacement in the wings: Jake Gyllenhaal. The Broadway alum has been teasing us with his singing skills of late, making his musical theater debut in last year's Little Shop of Horrors at City Center and returning to the same venue for one night only for Sunday in the Park with George this fall. Gyllenhaal proved his prowess once again during one of the breaks at the Tony Awards on June 12: check out below as he, along with An Act of God's Sean Hayes and host James Corden take to the Beacon Theatre for "commercial karaoke." The trio belted out "A Whole New World" from the Disney tuner and it was quite simply shining, shimmering and splendid!