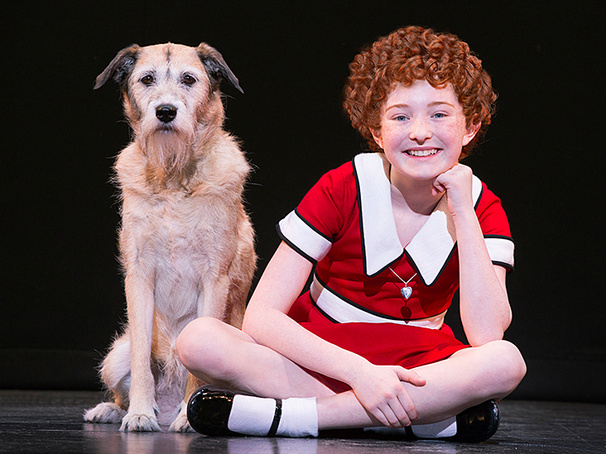 'Annie'
About the Show
'Annie' makes Portland happy through May 22.
We think you're going to like it here! The new national tour of Annie opens in Portland on May 17. The Tony Award-winning musical will play the Keller Auditorium through May 22.

Annie tells the extraordinary story of a little orphan who spends ends up in the lap of luxury with Depression-era billionaire Oliver Warbucks. Unlike most of the other children at Miss Hannigan's orphanage, spunky Annie believes that her parents are still alive and will one day return to claim her. So when Mr. Warbucks offers to adopt her, she asks the most powerful man in America to help find her real mom and dad instead, and he agrees. Warbucks' whopping reward for Annie's parents attracts the attention of con artists Rooster, Lily and the wicked Miss Hannigan, who hatch a plot to kidnap Annie and take the reward. But don't fret: This classic family musical has a happy ending for Annie, Daddy Warbucks and the whole gang.

Directed by original lyricist and director Martin Charnin and choreographed by Liza Gennaro, this production of Annie will be a brand new incarnation of the iconic original. Featuring book and score by Tony winners Thomas Meehan, Charles Strouse and Charnin, Annie includes such unforgettable songs as "It's the Hard Knock Life," "Easy Street," "I Don't Need Anything But You," and, of course, "Tomorrow."

The cast of Annie includes Heidi Gray as Little Orphan Annie, Gilgamesh Taggett as Oliver Warbucks, Lynn Andrews as Miss Hannigan, Chloe Tiso as Grace, Garrett Deagon as Rooster, Lucy Werner as Lily and Jeffrey B. Duncan as FDR.

Get your tickets to see this Broadway classic today!